Production - Processing - Standardization Garlic Platykampos Larissa
---
Our company "Skorda Delichristos" headquartered in Platykampos Larissa, is a family business which for many years engaged in the production, marketing, processing and standardization of garlic.
The storage, processing and preparation of garlic carried out in our warehouse in Platykampos experienced and responsible staff.
The continuing upward trend of our business is based on high quality products we offer, as well as consistency and professionalism that distinguish us. We distribute daily in our private vehicles, our high quality products to every corner of Greece but also in foreign countries.
---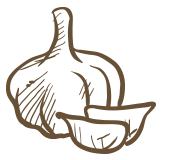 Skorda Delichristos | Production - Processing - Standardization Garlic
Tel: 2410621149, 6944853660 (Akis Delichristos), PhD. Warehouse: 6946400639 (Olga Palamida)